Jodi Lahaye first fell in love with the Hedgehouse throwbed—a stylish portable mattress that is comfy and durable, with a washable cover—after Hurricane Sandy pummeled New York City in 2012, totaling her car, flooding her West Village apartment building, and leaving her to couch-surf for weeks with her husband and two kids. At the time, Jodi's friend Beata Henrichs was developing a prototype for the throwbed, which she hoped her kids would use to hang out on in their L.A. backyard. Beata sent a couple to Jodi in New York and before she knew it she had a business partner. "I just loved them so much that I quit my job at MTV and decided I was gonna get into home textiles," Jodi deadpans. "Like, what the f**#!"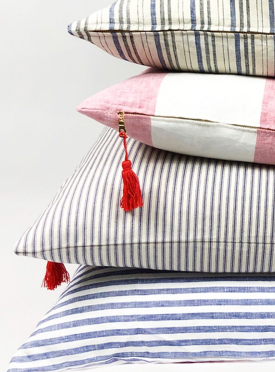 Jodi, who has a dry wit and a dirty mouth, sounds more like the MTV television producer she once was than the co-founder of a chic lifestyle brand with Nantucket or Hamptons vibes (the name Hedgehouse refers to "those beautiful homes you see behind big hedges that we don't all get to go to," explains Jodi. "It's about being able to have a bit of that comfort and luxury we think they all must have behind those hedges"). When she signed on as Beata's partner, Jodi knew nothing about textiles—but that didn't stop her from getting her hands dirty. "I'm a little nuts so one of the first things I did was buy a sewing machine and figure out how to sew on YouTube so I could make a throw bed and understand what went into it." She pauses: "I think I went overboard, honestly."
The two friends made tons of mistakes. "I swear to God I could write an encyclopedia of what not to do in business," laughs Jodi. They ordered too much inventory; they failed to consider shipping costs. Their throwbeds found an enthusiastic customer base anyway. They were called "hellishly chic" in the New York Times.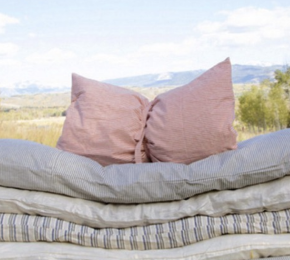 Officially, Jodi's role was business development. But when Beata unexpectedly left the brand in 2018 for personal reasons, Jodi's job became everything. She briefly considered closing up shop, since she'd taken another full-time job at Viacom and had been running Hedgehouse on the side (stressful). Instead, she decided to revive the business her way. She and Beata had expanded too quickly, she believed. So she simplified the brand's offerings and infrastructure and refocused on the throwbed, which comprised a majority of sales. "I went back to Do one thing and do it well," she says ("I didn't have anybody to fight with, so I could do what I wanted!" she adds).
Cut to the pandemic, "which sucked on one hand but was kind of good for the home décor business," quips Jodi. A year after streamlining, she was shocked to learn from her accountant that Hedgehouse was actually making money.
Nowadays Jodi is in the midst of a rebranding and cautiously expanding into new categories again, with "a hat, a bag, our version of pajamas." But everything must pass through her strict brand filter, which she describes as "simple, elegant, direct, with a purpose and no unnecessary maintenance." ("Shit's complicated enough. I don't believe in fussy.")
"Shit's complicated enough. I don't believe in fussy."

—Jodi Lahaye
And unlike in the early days of her entrepreneurship journey, she's keeping perspective. "I want to work with who I want to work with," she says. "I'm not out there hustling to get my products in people's stores. I'm making sure my business fits my life instead of the other way around."
Her motto, she says, is "use the good napkins every day. Don't wait." She pauses. "Maybe we've all learned that lesson recently!"
What's your best advice for entrepreneurs?
"Just because it's a good idea doesn't mean it's an opportunity. There's a tendency to treat our ideas a little too preciously. 'Oh, I just have to do this.' No, you don't! You actually don't! We did floor cushions for a while—very dense cushions. They couldn't be rolled up or squished and it damn near broke us trying to ship them. It's like, geez, why didn't we invent a wallet instead?!"
Tell us about your sustainability commitment.
"We used to make everything in New York, but that's really frickin' expensive and we could not figure out our price point. So we got hooked up with a manufacturer in India who is fully eco-certified and uses organic fabrics and no harmful dyes. We felt a responsibility to our community and the environment—we didn't want to go with just anyone. Now he makes our core products and we manufacture our seasonal stuff domestically."
What's something that inspired you lately?
"It sounds really cliché, but my daughter. She graduated high school on Zoom in the pandemic and then started University in the pandemic, and I'm starting to see a person that I don't know, in a good way. She was a big reason that I got excited about Hedgehouse again. She's always like, 'Hey mom, time's going to go by whether you're doing Hedgehouse or not. You might as well do it!' That youthful sense of 'I don't give a shit, I'm gonna do it anyway'—that's where she is in her life. And that inspired me."