As recently as January 2020, Ray Talbert was working as a cybersecurity expert, toiling long hours to prevent credit card fraud while studying in his spare time for a degree in digital marketing. His wife Val was a jewelry designer with her own line of handmade stone and metal pieces. The couple dreamed of working together—and also craved some additional income. So Val suggested they team up on a line of homeware products. "She was like, 'I've got this cool idea, and you could use your hands,'" recalls Ray.
Val crafted a prototype for a cement planter using stones she'd mined for her jewelry line (the Talberts loved recreational mining—aka traveling to gemstone mines to search for stones—and had done it together as a hobby for years). One night while working on the prototype, Val dropped it, which made it even more interesting. She decided to include an intentional geode crack in her design, revealing raw natural stones embedded in the cement.
"Business is just regular people making a ton of mistakes until it just works out."

—Ray Talbert, co-founder of Tal & Bert
When she sent pictures to Ray, he casually posted them to an Etsy group. "I thought if we could get three sales, that would be cool," he recalls. "I'll never forget that I posted it, took my lunch break, and when I came back, the post had like 647 likes and all these comments saying, 'I ordered, I ordered.' I can't even count how many orders we had that night!"
Overnight success created its own problems, of course: They had no idea how to manufacture at scale. They had no staff. So they scrambled. By April, the stress had become so great that Val shuttered her jewelry line, writing on Facebook that running two businesses "was taking a toll on my physical and mental health."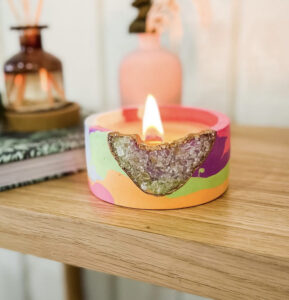 By June, Ray had quit his day job, too, just in time for the business's next major jolt. As nationwide protests over George Floyd's death at the hands of police sparked new interest in supporting Black-owned businesses, Giannina Gibelli of Netflix's Love is Blind shared Tal & Bert's products on social media. Val and Ray banked 978 orders overnight. "We actually had to shut down our website," recalls Ray, "because we just couldn't keep up with the demand."
By then they had 21 employees working in-person out of a small studio, struggling to adhere to COVID protocols in the height of the pandemic. In August, they secured a bigger space and decided to turn it into a storefront. They stockpiled products from other BIPOC-owned brands to feature alongside their own line. All the while, the orders kept rolling in. "Tal & Bert basically created itself based on the demand," says Ray. The Talberts never wrote a business plan: "Business is just regular people making mistakes until it just works out."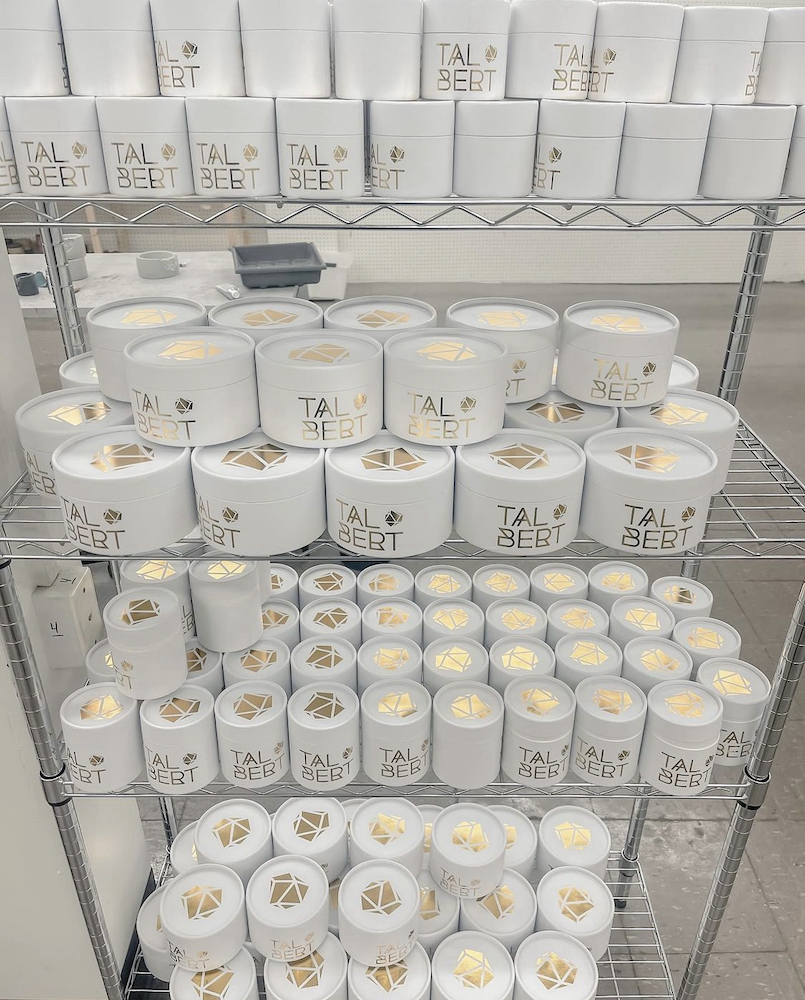 These days, the couple has a thriving online business and two vibrant storefronts in Pittsburgh that they are building into "experiences," not just retail shops, by offering artistic workshops for adults and children. "You can come in and have drinks with your friends and create a cool planter or candle," says Ray.
They've also added another joint project to the mix—their daughter, born in August 2021. "That's when we really learned to start delegating and trusting our employees to keep the ship running," says Ray. After flying blind in the early days of 2020, they now seamlessly manufacture and sell thousands of pieces per week, with Val designing and Ray overseeing operations and marketing. Says Ray, "We produce so rapidly and come up with different designs so fast it's crazy."
What's it like starting a business with your partner?
"It gets complicated," says Ray. "It's really hard to come home and not talk about business. That's one of things I struggle with—you can't turn it off. You have to figure out a way to leave work at work."
What's your best advice for aspiring entrepreneurs?
"Make sure you have a good funding partner," says Ray. "Someone who can provide capital. I'd look for that first, before you even launch. We got a loan, and then I started finding out about e-commerce platforms that give you a revolving line of credit based on your sales. Having consistent capital really helps, because now we're able to afford a marketing budget."
Also: "Make sure you're 100 percent passionate about what you're doing, because without the passion, when the challenges and obstacles hit, you're going to quit."