By curating an APRICOT Collection, you can share all the products you love—your recent discoveries, your best-kept beauty secrets—with your crew (and, ahem, earn cash). Ideally, your Collection should be packed with things you feel passionately about, that express your unique point of view. Your friends will love these things—because they love you!
Not sure how to get started? Allow us to walk you through the (quick + easy!) process. Be sure to check back often for more tips and advice.
1. First, click this button right here.

2. If you have an access code, enter it. No access code? No problem. Enter your email and we'll hook you up ASAP.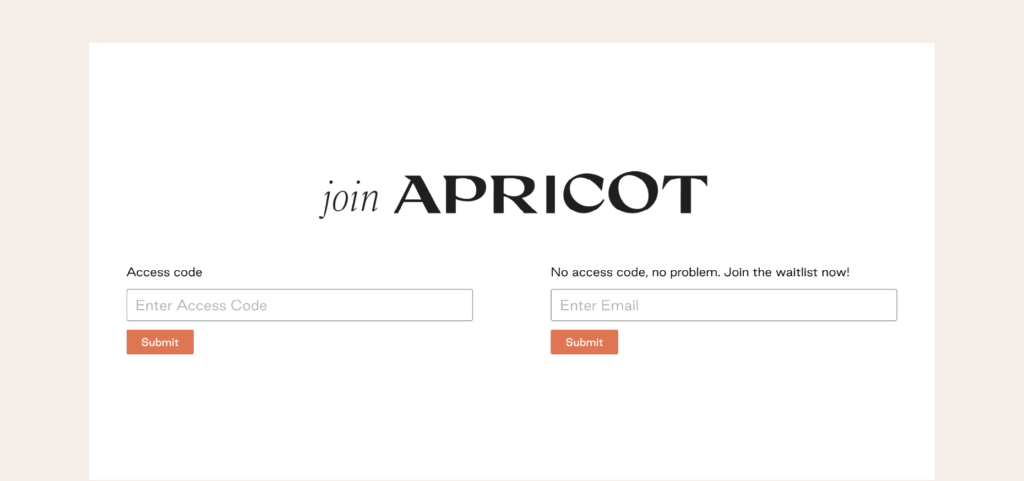 3. Once you're in, you'll want to name your collection. Think about what you're known for in your circle. Are you the clean beauty guru, always explaining how you got your skin so good and sending product recs to the group chat? Are you the parenting savant, the one who unearths nifty educational flashcards and non-hideous kids' dishware? Do you have a killer handbag collection? Do you give the best gifts? Pack your Collection with the things you gravitate towards naturally. Chances are, these are the things your friends trust your taste and intel on! Then consider naming your Collection accordingly. "Penny's Parenting Picks." "Caroline's Clean Beauty Faves." "Lola's Luxe Gifts." You get it.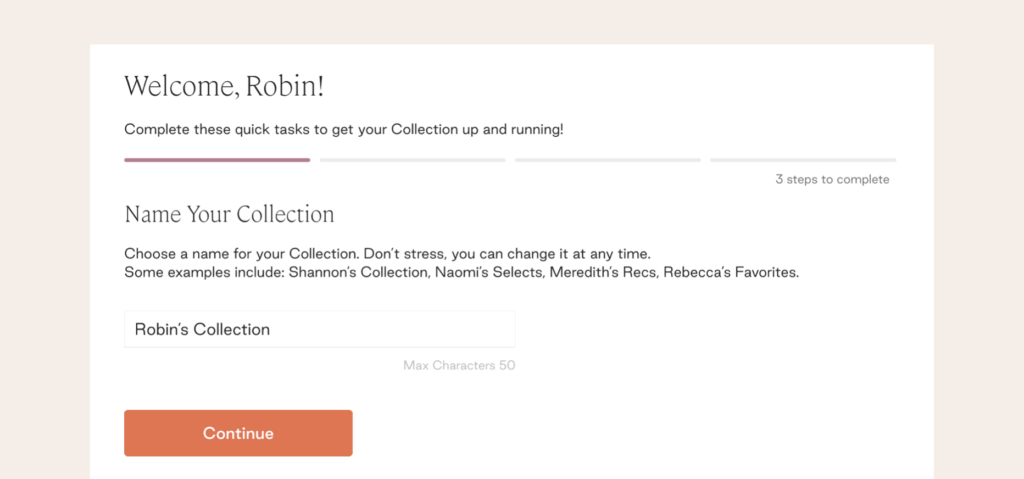 4. Now it's time to add products. Curating products that genuinely speak to you is a key element to helping your voice shine through on APRICOT. (If you love it, they'll love it!) Feel free to add that random awesome pair of socks, even if your Collection is mostly clean beauty picks. But maintaining a general focus will help people know what to expect from your Collection (aka streamline your brand… yes, we said it), and ensure your crew comes back again and again.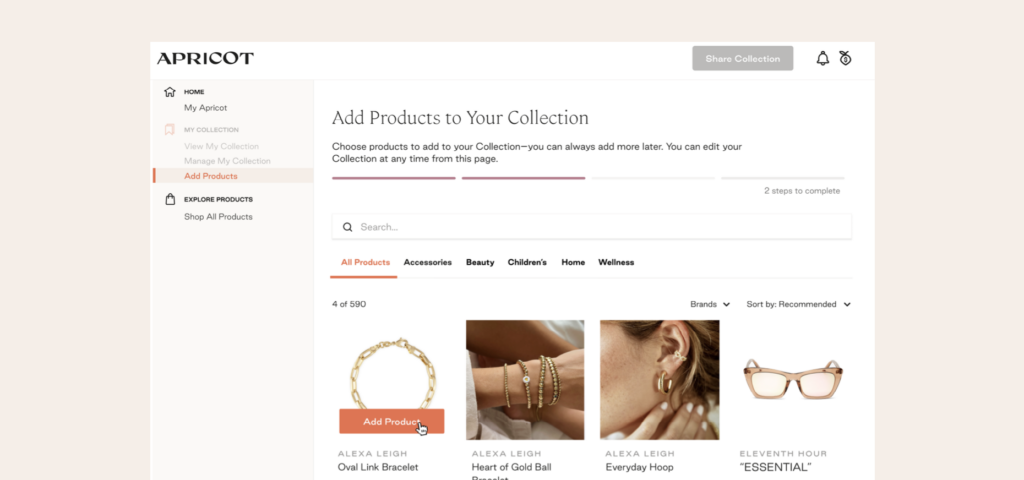 5. Personalize your recs. When you add a new product, you'll be asked to write a few words about why you love or need it. Here's your chance to make your Collection yours. Don't be afraid to use humor and realness. What do people need to know about this product? Why are you saving up to buy it? Why are you re-ordering it ASAP? How exactly does it crush similar products you've tried? Be specific and authentic and let your voice shine through.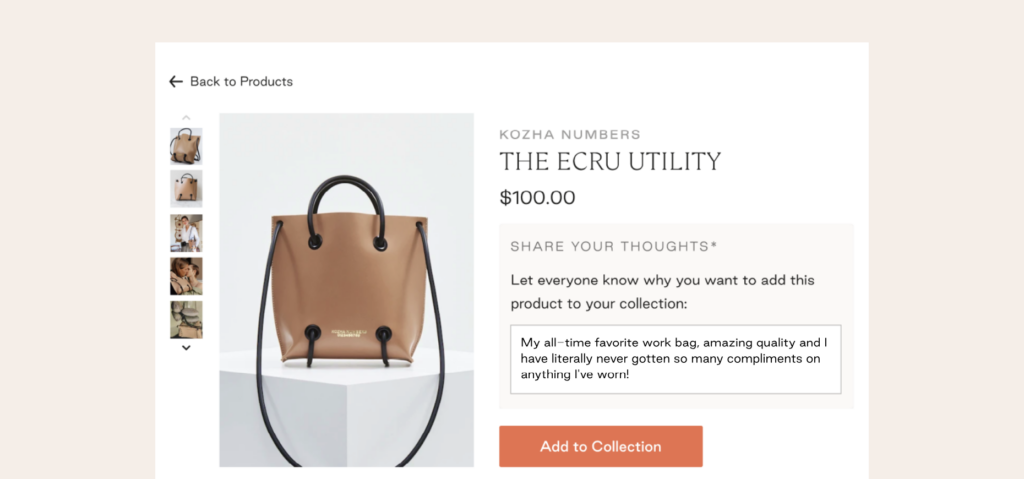 6. Share effectively. Ok, this is key. Once your Collection is published (you'll get a unique URL, just for you) it's time to share it with all the people you love. Share links or QR codes to your Collection or to specific products on your socials. Let your friends and fam see you using these things out in the world. Send a link to the group text. Do whatever feels most authentic to how you normally share things. Again, be you.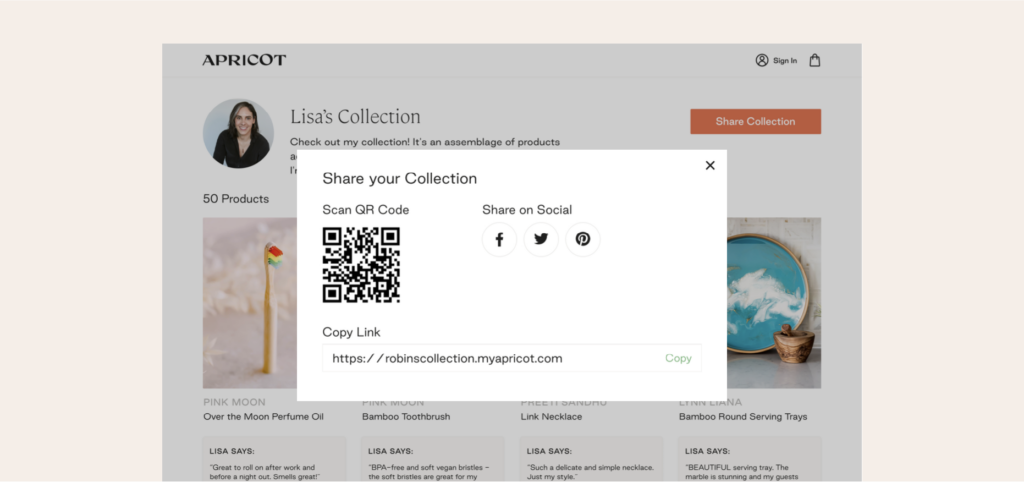 7. Learn as you go. You may find that sharing your Collection via email is more effective than on social media, or that including some lower price points in the mix helps more people smash that "buy" button (and earn you rewards). Don't be afraid to tweak your strategy as you go. And add new products all the time to keep things fresh!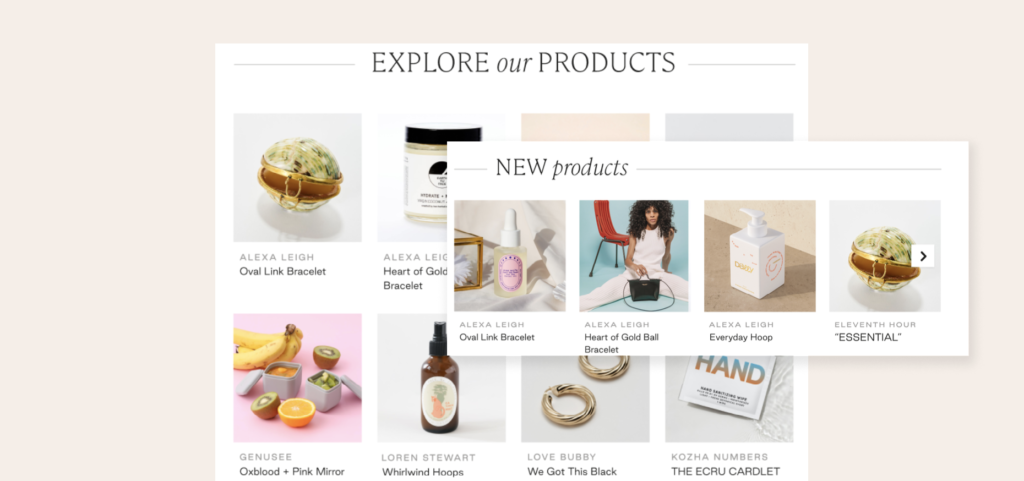 8. Shop. Don't forget, you can earn rewards by shopping your own Collection, too!