The idea first hit Jim Barber back in 2008, after he read about toy trains being recalled due to lead paint. "Luke and his brother happened to have the toys that were recalled," says Jim, referring to his sons. "So we started thinking about making things in the U.S., where we'd be more likely to control the production."
That might sound like an impossibly big leap for a longtime photographer in the advertising industry with no toy expertise. But Jim wasn't daunted. "It was the same thing when I first became a photographer," he says. "You just have to say, 'Ok, I'm a photographer now,' and then fake it until you can actually make a living out of it."
Jim had learned a bit about manufacturing through his photography work, and he also had a friend who worked at a toy company. Together they brainstormed a new brand. Jim even attended a trade show in Florida, where he bought a 3D printer to experiment with toy prototypes. When his friend bailed on the idea, Jim decided to keep going—and turned to his son Luke, then just graduating from college. "I said, 'See what you can come up with,'" recalls Jim.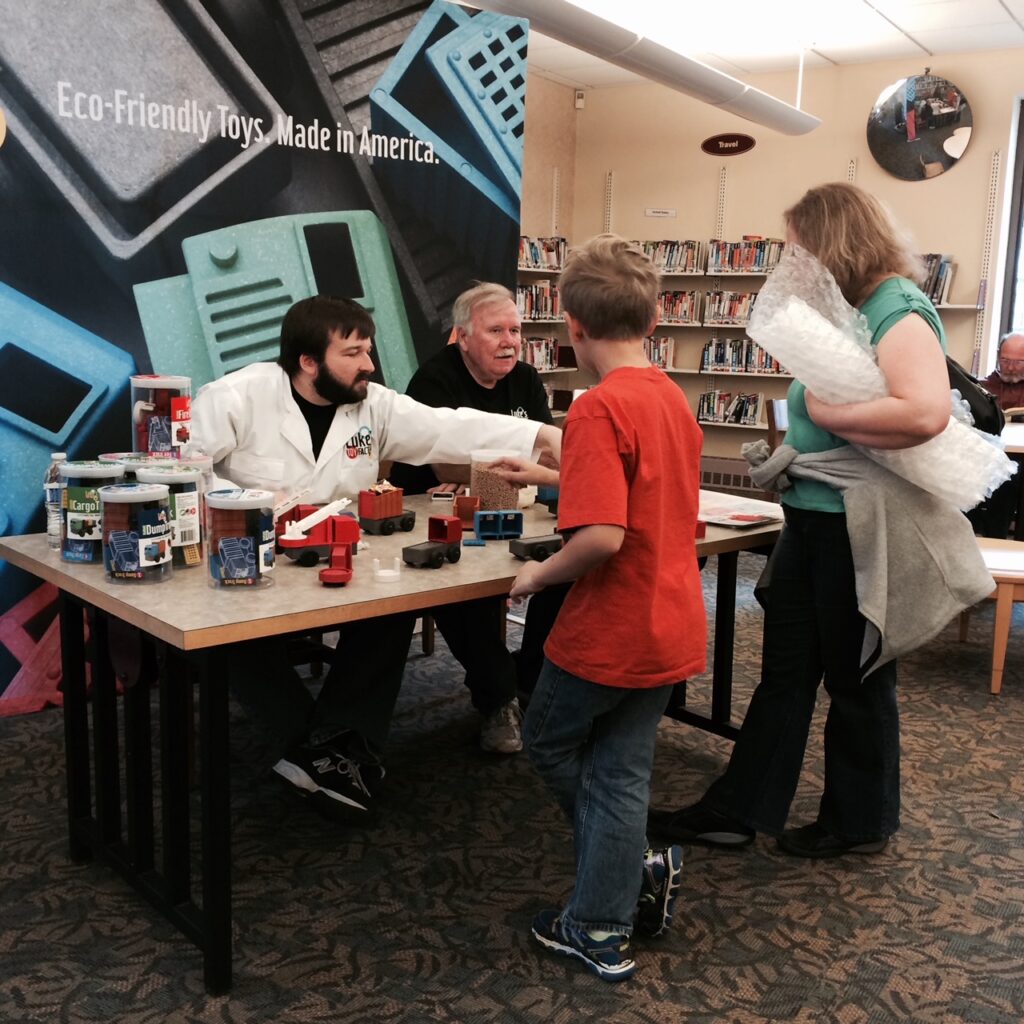 Luke was a creative type. "When I was younger I was always building and designing things," Luke recalls. "My mother got me train stencils and I used them to cut out and fold toy trains out of paper." He took easily to dreaming up toy trucks on a 3D printer. Soon he'd devised a deceptively simple fire truck that fits together like a puzzle, with an innovative base that holds the rest of the pieces. "There's a little wiggle room, so you don't have to be perfect," says Jim (meaning that pudgy little fingers don't have to place the pieces together with precision). The truck is perfect for kids who are two-and-a-half or three, and just starting to manipulate things with their hands.

"Our colors are subdued, they're laid back. Especially for special-needs kids, that's important because bright colors can overstimulate a child."

-Jim Barber
Jim and Luke started looking for a factory to manufacture the fire truck, but "Everyone told us to go to China," says Jim. They were on a mission to make safe, eco-friendly toys, so staying stateside was important to them. Eventually they found a company nearby in Connecticut that was willing to make the pieces. That company connected them to a local packaging supplier. And on and on until they'd managed to piece together an entirely local, carbon-neutral supply chain. They used one third maple sawdust to cut down on the (safe, locally made) plastic in the trucks.
They funded the first run of their fire truck on Kickstarter in 2014. Then the Barbers took their product to trade shows, where it was an immediate hit. "Once kids get the toys, they sell themselves," says Jim. "You can make anything you want in the USA, but if it's a bad toy, no one's gonna want to play with it." In 2019 Luke's Toy Factory won a Teacher's Choice Award for best pre-school toy. Jim now says sales have doubled every year since their launch.
"Once kids get the toys, they sell themselves."

-Jim Barber
These days Luke looks at pictures of real trucks to inspire his designs, then prints out prototypes on the 3D printer and gives them to real kids to try out. He tools them precisely to keep their interest, revising until he gets it right. He and Jim hand-assemble the pieces in their warehouse. "There's a lot of hand work involved," explains Jim. "A lot of doing the same thing all day long." They attach the wheels to the axel, then put them on the chassis. Jim personally stamps the Luke's Toy Factory logo with a pad printing machine. "We can do maybe 500 a week," he says, which is barely enough to satisfy demand.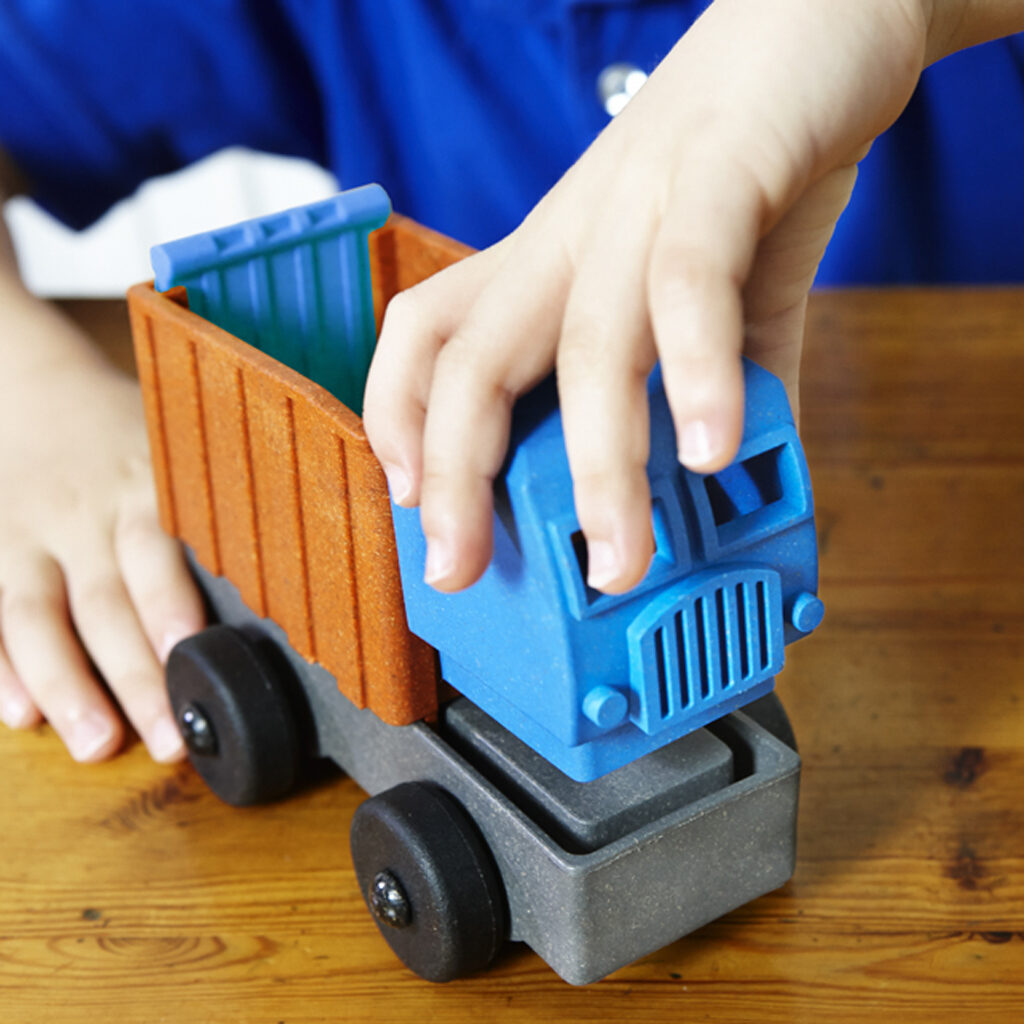 While their process is arduous, Jim says that's just what it takes to do things right. "Things got so cheap and cheesy that it was just junk," he says, referring to the toy industry at large. "We'd get stuff for my kids and within three weeks every piece was missing or broken." He's happy to be helping set a new course. "We saw a niche that wasn't being filled and I really thought by this time a ton of people would be making things in the US, or making them eco-friendly," says Jim, "but they're not."
What's it like working with your son?
Jim: "For a big part of the day Luke will be working on one thing and I'll be working on something else, but we always enjoy each other's company. Luke used to help me out when he was younger in the photography business as well. It's fun."
What's your advice for aspiring entrepreneurs?
Luke: "Try to make sure there's a cross section of different skills in your company."
Jim: "Anything you can do in-house, you don't have to pay someone to do for you. We have another partner who does package design. His son, who's also a partner, does our web design and social media. He Tweets. I'm not allowed to Tweet. I couldn't even tell you how you Tweet."