Lena Vasilenko-Tsymbal never thought of herself as a particularly creative person. To hear her tell it, she co-founded Kozha Numbers "to have a brand and a nice environment and a happy life," she says.

At the time, she was only 19, toiling in a soulless corporate "starter job." She and her work bestie, Ilona Gerasimov, spent their days commiserating via email (e.g., "'This is prison, how do we escape, we need to think of something'"). Up for a challenge, they decided to try their hand at making shoes. Nevermind that they hadn't been to design school and didn't know the first thing about leather production. They did know what they liked. "There's something special about being so naïve," says Lena, "because you try things and challenge yourself. I think that is reflected in our designs, too."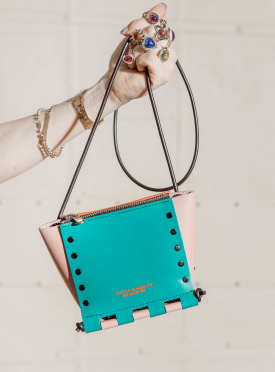 The friends bought a sewing machine off of OfferUp.com and road-tripped to California to buy leather. Back in Portland, they started working until 1 or 2 a.m. (after their day jobs), teaching themselves to stitch leather. Eventually, says Lena, "I was like, Wow, I am creative!" When they learned that shoe sizing was complicated—and that soles take a lot of muscle to hammer—they pivoted to handbags. Three years later, they'd produced an initial run of a couple hundred bags (as in, they personally sewed each one of these bags.). `
"There's something special about being so naïve, because you try things and challenge yourself."
—Lena Vasilenko-Tsymbal
The friends called their brand Kozha Numbers because "kozha" means leather in their native Ukranian, and numbers signify their back-to-basics approach. The bags are design-forward and architectural, inspired by shape: "We don't necessarily have pockets or lining. We're more about taking it back to the simple, to the design aspect," says Lena When they officially launched in 2016, they sold out in a month using Instagram.
"The Internet is powerful," Lena says. "If you put yourself out there, your people will find you."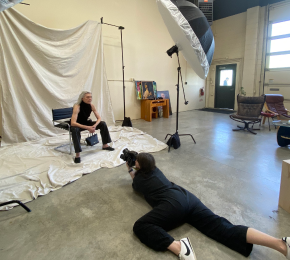 Today the pair does "every single thing" for their brand out of their zero-waste Portland studio, including production, photo shoots, and shipping. "I believe that our way of doing business is actually the most sustainable," says Lena. Rather than outsource, they've automated certain key things (like hammering) to help their small team scale up.
But at Kozha Numbers, good vibes will always be just as important as zero waste. "We have a beautiful energy the way we create," says Lena. "Everyone comes in in a good mood, they're happy to be here." From the earliest days, "this didn't feel like work," she says. "That has been the difference."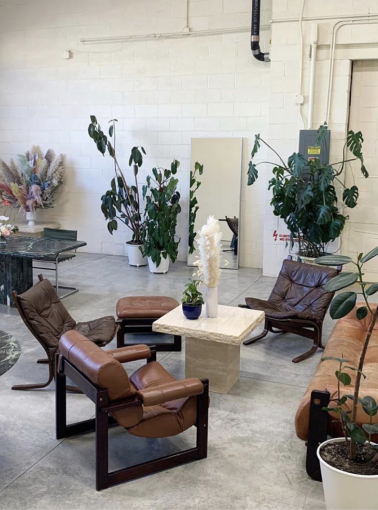 What's your best advice for aspiring entrepreneurs?
"It's all about attitude," says Lena. "You don't know what's going to happen but if your attitude is positive you'll see ways to move forward. When COVID hit we had to cancel a photo shoot we had planned for the new season and we didn't know what to do. So Ilona and I literally got together and did self-timer on an iPhone wearing the bags ourselves and that was our editorial."
What's one product you always recommend to friends?
"Our most popular bag since 2018 or 19 has been the Utility. People love the simplicity of it, the way the rubber wraps around it—they're captivated by it."
Shifting gears for a moment, you are both Ukranian. What is the best way to help people in your home country during this incredibly difficult time?
"First of all, make sure you're looking at the right sources. Information is everywhere and so much of it is incorrect. Secondly, find something you click with. I don't understand the military aspect but I do understand the human aspect so I've been working with my sister, who lives in Copenhagen, to assist refugee families directly. It's wild knowing that some friends have gone from having a house and plans and dreams to literally, your life is in a suitcase and you have to start from scratch."